SABRE Advanced 3-in-1 Defense Sprays

We carry easy to carry keychain Pepper sprays:
SABRE combines both an irritant (CS Military Tear Gas) and an inflammatory (Oleoresin Capsicum/Red Pepper) to produce a blended formulation, which is superior to all single ingredient defense pepper sprays.
We also have other top brands aswell!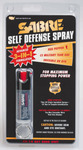 The KEY RING provides security in a simple compact canister with key chain attachment. The small, yet powerful 0.54 oz KEY RING delivers a ballistic stream which reduces wind blow-back about 8-10 feet. Approximately 25 shots are contained in the compact canister.
Ships for free* only $14.99

*free within the Unites States only!

click on logo to buy!